Anti Aging Products to Help & Enhance Boomer Men's Well Being & Appearance
Boomer men are facing aging issues that  are not so easy to deal with as they age. Wrinkles, uneven skin tone, white hair, loss of hair, etc. No longer do men have to just accept all the changes that go with aging as it is now mainstream  for men to use skin products, dye their hair, wear shapewear clothing, and more. What Man doesn't want to keep their youthful appearance for as long as they can.
I have found some great anti-aging products to help senior men with all issues to keep you looking good and feeling good.
---
Personally Picked Products
---
 Authentic Barbershop Vibration Massager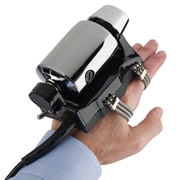 This is the same commercial massager used by the neighborhood barber to conclude the grooming ritual of a bygone era. Now available for home use, this handheld device recreates the classic barbershop experience where a shave and haircut was followed by an invigorating massage to the scalp, neck, and shoulders. Worn on the back of the hand, the single-speed massager's powerful 15-watt motor rotates six ball bearings laterally and vertically, generating thousands of vibrations per minute that are transmitted through the hand. The intensity of the massage is controlled by how much pressure the wearer applies—a kneading action penetrates deep into muscles, even through clothing, to soothe soreness and stiffness, while long, gentle strokes ease tension all over the body.
Check out the Authentic Barbershop Vibration Massager.
---
Thinning Hair Boar Bristle Brush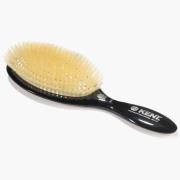 This is a natural boar bristle hairbrush that is gentler on thinning hair than typical bristle brushes. This brush uses a softer "cut" of bristles–not the stiffer root-end used on brushes for normal hair–allowing its 2,300 bristles to gently glide through fine hair without pulling, leaving locks looking healthy and shiny.
Check out the Thinning Hair Boar Bristle Brush.
---
Best Nose Hair Trimmer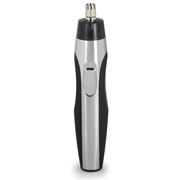 This nose and ear hair trimmer earned The Best rating because it cut hair better than any model and was very comfortable to use. Panelists lauded The Best model's powerful trimming that was "smooth and comfortable," unlike lesser trimmers that "didn't really cut, just buzzed" or pinched uncomfortably. The Best trimmer was the only model with an integrated light that illuminates difficult-to-see areas in the nose and ears.
Check out the Best Nose Hair Trimmer.
---
Hands Free Hair Rejuvenator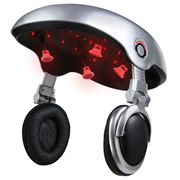 This is the head-worn device that rejuvenates hair hands-free using the same proven photo-biostimulation therapy employed by medical professionals. Made by a company that supplies hair rejuvenation technology to physicians, it employs low level laser therapy (LLLT) that provides pain-free light stimulation for cells in hair follicles, encouraging them to repair themselves. In concert with 30 high-output LEDs that provide a broad array of pulsed light energy, the rejuvenator's 21 built-in lasers produce a 655nm wavelength–the optimal wavelength used in LLLT for increased cellular activity within hair follicles. The rejuvenator's built-in speakers can play music from a connected iPod
Check out the Hands Free Hair Rejuvenator.
---
Top Notch Anti Aging Businesses
---
They offer a wide range of products such as anti-aging, hydrating, brightening, firming, creams, moisturizers, masks, body care and much more.
Check out Skin Care RX for Men
---
Murad Man is an advanced skin care just for men. It cleanses and conditions for a superior shave, reduces redness, irritation and clogged follicles, preventing damage to keep skin looking youthful in just 3 easy steps.
Check out Murad – The Leader in Skin Care Science
---
GrayBan combines with your hair's natural protein to bolster melanin-like pigment back into your hair. Melanin starts to decrease as we age. Since Melanin is a pigment, the result of decreased melanin is gray hair. With each daily application, your hair becomes darker – gradually – until you regain the natural-looking color you desire.
You will also find health, beauty and wellness products not typically found in stores.
Check out Verseo!
---
Boomer men no longer have to deal with wrinkles, age spots, loss of hair, and more because they are so many products to help you look younger. When you look younger you feel younger.
---
Save
Save