Fitness Products & Resources For Boomers
As a boomer I know how important fitness is to our health.  I was very active for a long time but health issues sidelined that. After going through major surgery, and not been active for a long period of time, I found that even some simple things I could no longer do.  I also found that my balance was not as good.
I realized even more how important it was to be physically active and increase activity to heal and get stronger.
No matter what shape you are in currently, as a boomer it is extremely important to keep your fitness level up, not only for anti-aging benefits, but also for longevity. Staying fit also helps your mind stay fit!
There are great products here to help you. We showcase cutting edge fitness equipment and tools to use to keep your "ticker" ticking longer and you looking and feeling younger.  Remember, being fit and active keeps us living longer, helps to prevent 'shrinkage' and helps to prevent falls.
---
Hand Picked Products
---
Stretch Improving Rollers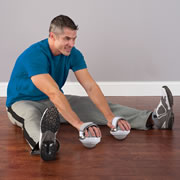 These are the handheld rollers that provide an increased range of motion when stretching. They secure around the hands with hook-and-loop fasteners and provide the palms with a rolling surface that gently glides across the floor. The weighted rollers support up to 300 lbs. each and enable one to perform fluid rolling movements that help enhance one's strength, flexibility, and balance.
Check out the Stretch Improving Rollers
---
Back and Core Strengthener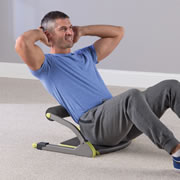 This is the exercise seat that uses resistance-training technology to improve back and core strength. Unlike a standard sit-up that can strain the neck and back, this unit's built-in resistance provides back support when performing the classic abdominal exercise and helps one achieve a more effective core-based workout.  The strengthener's versatile design tones abs, obliques, quads, glutes, calves, forearms, triceps, and biceps through a variety of exercise positions.
Check out the Back and Core Strengthener.
---
50 Exercise Fold Away Gym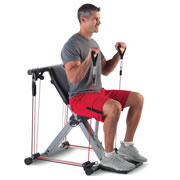 This is the home resistance gym that provides a 50-exercise body-sculpting workout, yet easily folds flat to store under a bed or in a closet. Instead of cumbersome weights, the gym uses six elastic cords that provide three levels of bi-directional resistance (5 lbs.-74 lbs.) by simply adjusting integrated carabiner clips. The gym's 2″ foam-padded seat adjusts to three positions while its textured footplate provides stability to help one maintain correct form whether performing seated bicep curls or tricep extensions. Supports up to 220 lbs.
Check out the 50 Exercise Fold Away Gym.
---
Seated Whole Body Pedaler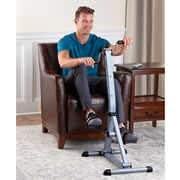 This is the low-impact exercise machine that provides a complete cardio workout from the comfort of a favorite chair. The pedaler combines a bike-simulating workout for the legs with an upper-body ergometer, letting users maintain overall cardiovascular fitness and muscle tone without strain on weight-bearing joints. This pedaler also tones hamstrings, quadriceps, biceps, and triceps with an optimal level of exertion. The pedals and arm crank can be cycled in reverse to work muscle groups with variations not possible with forward-only motion.
Check out the Seated Whole Body Pedaler.
---
Foldaway Resistance Gym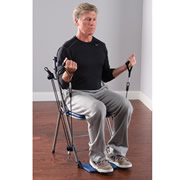 This is the resistance exercise machine that provides a total body workout yet folds up to a remarkably slim 6″ for easy storage. Combining the strength-building capability of several bulkier machines, this deceivingly comprehensive trainer uses three sets of interchangeable elastic bands of increasing resistance to enable 50 different exercises for arms, back, shoulders, legs, and abdominals. When finished, the trainer folds up easily and tucks out of the way.  Supports up to 350 lbs.
Check out the – Foldaway Resistance Gym
---
Foldaway Rowing Machine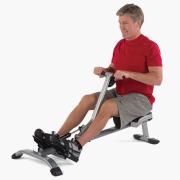 With five resistance levels, this rowing machine delivers a full-body home workout yet easily folds away for compact storage. Its smooth hydraulics, padded handlebars and seat, and pivoting pedals encourage a complete, fluid stroking motion that exercises the heart, core, and limbs. Hook-and-loop fasteners secure the feet in position and a digital monitor tracks workout duration, pace, and calories burned. Because the machine is not dependent on electricity, it can be used anywhere in a home.
Check out the – Foldaway Rowing Machine
---
Core Toning Twister Board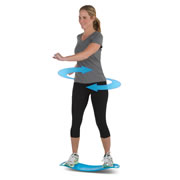 This is the curved exercise board that provides a low-impact workout on any surface. Its unique design enables users to stand on each end and tone abdominals, quads, and calves by simply twisting the core. Unlike monotonous balance boards or other stationary aerobic aids, this unit encourages active, dance-like movement without putting strain on the knees.
Check out the Core Toning Twister Board.
---
Power Assist Pedaler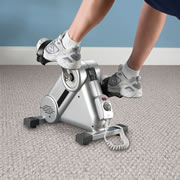 This exercise pedaler provides a power-assisted leg workout for those with limited mobility to help improve muscular strength and coordination. Just a 15-minute workout helps improve muscle strength and range of motion and can be performed while watching TV. The device runs smoothly using a whisper-quiet 18-watt motor that coaxes your legs to cycle without forceful, jerky movement.
Check out the – Power Assist Pedaler
---
Top Notch Fitness Businesses
---
They provide an entire gym full of equipment in 1 machine. Their current top of the line model is Total Gym XLS. It just takes 10-20 minutes a day to reshape your body.
They offer a 30-Day Trial with FREE Shipping.
Check out Total Gym!
---
Featured in Men's Health, Outside, Self, Shape, Sports Illustrated, NY Times, WSJ, Today Show and Good Morning America, The TRX provides a total-body workout for men and women of all ages and fitness levels with just one piece of equipment that is easy to set up, use and store.
They offer a wide variety of exercise DVDs and online streaming video and education courses.
Check out TRX Suspension Training!
---
The are a leading provider of health, exercise, sport performance, and fitness equipment offering a more than 2,500 products of quality sports and fitness training equipment.
Personally the resistance training is perfect for me and a good way for boomers to start.
The foam rollers not only relieve pain but also break up scar tissue and ahesions.
Check out Power Systems!
---
Exercise, even a little bit each day,  keeps your heart stronger, keeps you looking and feeling younger and  helps prevent 'shrinkage'.  Plus it keeps muscles strong to help prevent falls.

---
Save