Looking better will make women feel better as they age.
As age we start to deal with changes to our skin. It's not as smooth or tight, and may also be drier and thinner. Our face becomes thinner as we loose fat in our cheeks, chin, nose and bone loss around the mouth and chin. Of course gravity play a cruel trick on our skin. Wrinkles appear as do age spots. I've even noticed skin tags and rough patches on my skin.
Hair loss can happen to both men and women with age and the rate of hair growth can slow down.
Here are some products to help you stay looking younger.
---
LED Facial Rejuvenator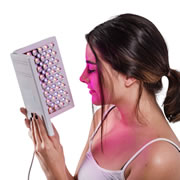 Using 262 powerful LEDs, this light therapy system minimizes wrinkles and destroys facial bacteria for a clearer, rejuvenated complexion. It combines the anti-aging benefits of infrared rays with acne-fighting blue light—the same technology developed by NASA to quickly treat astronauts' injuries.
While the infrared light penetrates the epidermis to spur the production of elastin and collagen, replenishing elasticity and diminishing lines and age spots, the safe blue light zaps bacteria to wipe away blemishes—a treatment proven effective in dermatological journals. Users can apply each color of light therapy independently, or combine both modes in one treatment session; results are typically seen within several weeks.
Check out the LED Facial Rejuvenator.
---
Aesthetician's Ultrasonic Wrinkle Reducer
This is the professional ultrasonic facial wand that penetrates deeper than commonly available models to help minimize the appearance of fine lines and wrinkles. It utilizes phonophoresis technology—the use of ultrasound to enhance the delivery of ingredients to the skin—to stimulate cell metabolism and collagen production by penetrating the epidermis with high speed, low-frequency micro-vibrations. The ultrasonic wand gently exfoliates, improves circulation, enhances skin's elasticity, and helps fade age spots and freckles to help rejuvenate one's appearance.
Check out the Aesthetician's Ultrasonic Wrinkle Reducer.
---
Cordless Diamond Tipped Microdermabrasion System
this is the cordless diamond-tip microdermabrasion system that uses gentle suction to clean pores and rejuvenate skin. The natural diamond-tipped wand exfoliates the epidermis while the built-in suction simultaneously removes built-up dirt, makeup, and dead skin cells. The suction also stimulates the production of collagen to leave skin smoother and more youthful looking, and the diamond tips reduce fine lines and minimize the appearance of spots and enlarged pores.
Check out the Cordless Diamond Tipped Microdermabrasion System.
---
Dual Therapy LED Skin Rejuvenator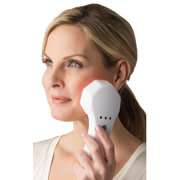 This is the cordless handheld device only available from Hammacher Schlemmer that delivers both red and blue light therapy, helping users diminish wrinkles and rejuvenate skin while also fighting discoloration and blemishes. A study published in a leading German dermatology journal endorsed the use of 650nm red light to counteract the signs of aging, as the light waves penetrate the skin's surface to boost circulation and amp up collagen production, leaving skin tighter and fuller-looking.
Check out the Dual Therapy LED Skin Rejuvenator.
---
Thinning Hair Boar Bristle Brush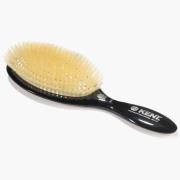 This is a natural boar bristle hairbrush that is gentler on thinning hair than typical bristle brushes. This brush uses a softer "cut" of bristles—not the stiffer root-end used on brushes for normal hair—allowing its 2,300 bristles to gently glide through fine hair without pulling, leaving locks looking healthy and shiny.
Check out the Thinning Hair Boar Bristle Brush.
---
I will continue to look for items that will help you look better, which will make you feel better, as you age.
---