As we get older back pain becomes more common. But there is help.

I injured my back years ago and the experience, and recovery, was so painful and difficult that I remember it like it was yesterday.
As we age the normal wear and tear on the back can cause pain. As well, according to a recent article I read, as we age the disks between the vertebrae wear away and shrink, which causes pain and stiffness as the bones start to rub against each other.
It's hard to admit that we are old enough to have these aches and pains – it is even harder to find something that will help.
Here are a few products I have found to help if you are suffering from back pain.
---
Infrared Pain Relieving Wrap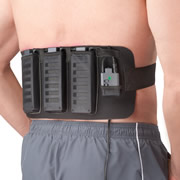 This is the flexible wrap with 63 integrated LEDs that provide far infrared therapy for relieving back pain. The wrap uses technology developed by NASA to heal astronauts' injuries and is ideal for stimulating blood circulation, relieving swelling in joints, and loosening tight muscles in all parts of the body.
Unlike wands that require being held for extended periods, this hands-free device secures to the back, knee, shoulder, arm, or leg with a 40″-long flexible strap, placing the three 4 3/4″ x 2 1/4″ LED panels (each containing 18 880nm infrared LEDs and three 660nm red LEDs) within 1/4″ of the skin. Treating an 8 1/2″ x 4 3/4″ area, its far infrared energy penetrates deep into tissue for lasting relief from muscle aches.
Check out the Infrared Pain Relieving Wrap.
---
The Back And Joint Pain Reliever
This is the machine that replicates the pain-relieving effects of inversion therapy while lying flat on one's back. Padded ankle and arm supports hold the body in place on the cushioned bench, while an easy-to-reach lever allows users to extend the feet downward by applying just the amount of force they find most comfortable. The result is a reviving stretch that relieves pressure on the spine as well as decompresses the joints in the shoulders, hips, knees and ankles.
Unlike inversion tables, this machine is easy to get into and out of, and it won't cause a rush of blood to the head. The arm supports are adjustable, the height adjusts to accommodate users from 4'11" to 6'6″, and the device is portable enough to tuck away in an office or a bedroom closet.
Check out the Back And Joint Pain Reliever.
---
Heated LED Back Pain Reliever
This is the flexible wrap with deep-penetrating infrared and red LEDs and soothing warmth that relieves pain and stiffness in the back. The wrap utilizes technology originally developed by NASA to ease discomfort caused by arthritis, tendonitis, sprains, and strains. The 60 medical-grade LEDs—40 infrared (invisible to the naked eye) and 20 red—generate therapeutic light that penetrates deep beneath the skin to increase blood circulation, reduce swelling, and temporarily relieve joint pain.
Check out the Heated LED Back Pain Reliever.
---
Dual Treatment Neuromuscular Pain Reliever
This is the cordless home electrotherapy system that treats two areas simultaneously (or independently) for fast, drug-free pain relief. Addressing joint pain associated with arthritis and muscle aches, the device employs Transcutaneous Electrical Nerve Stimulation (TENS) therapy. When the self-adhesive electrode pads are placed around sore spots, they send harmless low-frequency electrical pulses into the tissue that block pain signals passing through nerves to the brain.
Check out the Dual Treatment Neuromuscular Pain Reliever.
---
Sciatica Relieving Back Support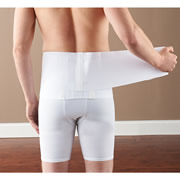 This is the back support that provides compression throughout the lower back and upper thighs to help ease sciatica pain and prevent future flareups. Unlike a traditional back brace that is encumbered with bulky straps and is too short to address the accompanying leg pain, this sciatica support system combines a slim wrap with compression shorts for widespread relief.
Worn under clothing, the shorts help minimize pain radiating down the gluteus muscles and hamstrings, while the wrap can be positioned anywhere along the back or hips to soothe the lumbar spine, sacrum, and pelvis. The wrap secures with adjustable hook-and-loop fasteners for the desired amount of compression, and the shorts prevent it from slipping. Made from a breathable nylon/spandex blend, the flexible garment moves freely and can even be worn during athletic activity.
Also helps control symptoms of sacroiliac joint dysfunction and other causes of spinal pain.
Check out the Sciatica Relieving Back Support.
---
To keep your back from hurting as you age, it is important to have good posture when you stand or sit, maintain a healthy weight, eat a good diet, or take supplements if a good diet is difficult, for joint and bone health. Don't forget exercise can keep your back and abdomen strong and flexible.
---