Sleep is  important to our physical health and emotional well-being as we age.
As we age we just don't sleep as well as we use to, and as much as what they say in the media 'that we don't need as much sleep' as we age sleep is very important for health, both physically and mentally.
Here are some products to help you sleep.
---
Sleep Enhancing Headband
This is the headband that optimizes the quality of your slumber with a series of self-adjusting rhythmic binaural beats. It gently calms the brain's level of activity, helping lull one to sleep and maintain a peaceful hibernation. While asleep, the device monitors brain wave activity using conductive fabric sensors and adjusts its rhythmic beats to help you maintain a deep sleep status.
A free app compatible with iOS and Android smartphones connects to the device and provides sleep monitoring feedback including the time it took you to fall asleep, REM sessions, amount of time slept, and the level of sleep throughout the night (restless, light, deep). The device's speakers and technology are unobtrusively tucked inside the lightweight and breathable headband, keeping you comfortable throughout the night without constricting cords or clunky equipment. With volume control and built-in alarm that wakes users with gradually increasing gentle tones.
Check out the Sleep Enhancing Headband.
---
Sleep Enhancing Pillows
This is the neck supporting pillow that helps promote a better night's sleep using a patented technology that has been clinically proven to increase blood flow. The pillow's cotton fibers are interwoven with strands of Celliant, a thermo-reactive mineral matrix that converts released body heat into therapeutic infrared light that is reabsorbed back into the skin.
The safe, invisible infrared energy generated by the fabric in sock, glove, and shirt form significantly increased blood flow. Optimized blood flow—in addition to helping regulate body temperature—has been a reliable method for decades to counteract the chronic aches, inflammation, and night sweats that can impact a night's rest. The pillow ensures comfort and correct posture for side, back, and stomach sleepers by eliminating pressure points with slightly raised edges and providing a plush, comfortable cushion.
Check out the Sleep Enhancing Pillows.
---
Tinnitus Masking Sound Generator
Anyone who suffers from tinnitus will benefit from this!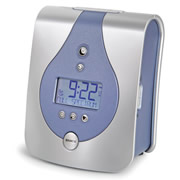 This is the sound generator that helps muffle the constant ringing or buzzing of tinnitus so users can concentrate or sleep.
The device's 24 tracks include doctor-developed instrumental melodies, nature sounds such as the ocean and rain, and various white-noise frequencies (1,000-10,000 Hz) so you can choose the track that best cancels out your tinnitus. The digital recordings play continuously without the jarring silences that separate MP3s to aid concentration  or promote restful sleep at night.
Check out the Tinnitus Masking Sound Generator
---
Another sleep aid. Melatonin.
Melatonin is a brain hormone that regulates the sleep/wake cycle. Changes in melatonin secretion associated with things such as Jet-lag, shift-work and sleep-deprivation may cause sleep disturbances. Melatonin used prior to bedtime may help provide sleep support.
Check out Melatonin
---
A few tips to improve your sleep
– try to go to bed at the same time, including weekends
– keep your bedroom dark and relatively cool
– turn off all devices, t.v., tablet, phone
– if you can't fall asleep, or wake up during the night, read a book instead of tossing and turning
Sleep is just as important to our physical health and emotional well-being as we age as it was when we were younger.
---
Save
Save