Did you know that proper foot care is an important component of a senior's overall health?
Plus it helps with mobility as you are more comfortable walking and also helps your balance to reduce the risk of falling.
It can be difficult for seniors to give their feet the care they need. Possibly because of eye sight problems or range of motion issues.
If you find your toenails are too hard to trim try soaking your feet in Epsom salt first to soften the toenails. Hey, it feels good too and having clean feet can ward off possible infections.
Some tips for cutting your toenails:
Cut your toenails after soaking, either after a bath or soaking your feet in a tub, to soften the nail
With nail clippers follow the shape of the nail and don't cut them too short
Use an emery board after trimming to smooth the nails
Here are some products I found that can help you.
---
Illuminating Manicure/Pedicure Set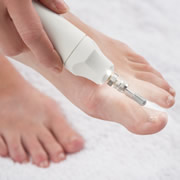 This is the only nail-grooming set that lights up for an easier view of detailed work during manicures and pedicures at home. The tip of the motorized wand is encircled with three LEDs that shine a bright light on your work area without casting shadows, enabling careful trimming, filing, and buffing without accidental nicks or chips.
The wand operates at six different speeds from 3,000 to 12,000 rpm, rotates clockwise and counterclockwise, and comes with nine detachable tips for a thorough salon-quality experience.
Four abrasive tips clip and shape nails and slough away dry skin, three distinctively shaped diamond cutters tackle hardened areas on the feet and fingers, including the cuticles, a cleaning and polishing brush removes dust and dirt, and a felt polishing tip primes nails for polish and helps prevents breakage.
Check out the Illuminating Manicure/Pedicure Set
---
Hydrotherapy Heated Foot Bath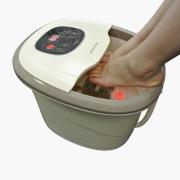 This is the heated spa tub that pampers sore feet and calves with a relaxing reflexology massage. While two powerful water jets and circulation-boosting red light soothe each foot, four textured rollers apply gentle pressure to the soles and heels, helping to soften skin, loosen stiff muscles, and melt away pain.
Unlike lesser devices that require users to move the rollers with their feet, this unit's motorized rollers allow complete relaxation without any exertion.
The deep, 5 1/4-gallon tub submerges legs well above the ankle, ensuring the Achilles tendon and calf muscles are treated.
Check out the Hydrotherapy Heated Foot Bath
---
Callus Removing Foot Treatment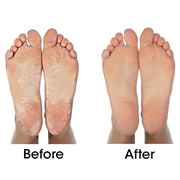 This is the natural callus therapy that comfortably removes layers of tough, dead skin in a single treatment to leave feet soft and smooth.
The disposable booties are lined with a mixture of 18 natural moisturizers and exfoliants, including fruit-derived alpha hydroxy acids, that slough away dead skin cells and help speed circulation. Simply wear the booties for one hour, then rinse feet clean.
Check out the Callus Removing Foot Treatment
---
Dual Head Powered Pumice Stone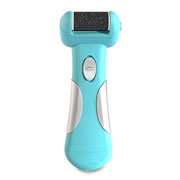 This powered pumice stone with two heads quickly and gently remove calluses and dry, rough skin from the feet.
The two-in-one pedicure tool is waterproof for convenient, mess-free use in the shower, and its dual built-in heads save the time and hassle of grabbing multiple tools or swapping out parts. Simply begin by running the coarse mineral roller over hard calluses.
Check out the Dual Head Powered Pumice Stone
---
Shower Foot Scrubber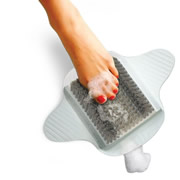 This is the scrubber that delivers a spa-style foot treatment in your shower without bending or balancing precariously on one foot.
The scrubber's suction-cup lined bottom affixes securely to a shower stall floor or the side of a bathtub, its upward-facing polypropylene bristles molding to the contours of your foot. An integrated stingray-shaped polyolefin plastic pad lets you securely plant one foot on a wing as you scrub the other.
As you wipe your foot back and forth across the brush's surface, stiff outer bristles act like a loofah to remove rough or dry skin while soft inner bristles gently massage tender spots, even between the toes.
Check out the Shower Foot Scrubber
---
Moisturizing Gloves And Booties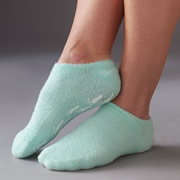 Recommended by dermatologists, these gloves and booties are lined with a gel composed of medical grade mineral oil that moisturizes dry, rough skin. The gloves and socks are made from a comfortable nylon and spandex blend and they are hand-washable.
The gel releases a soothing combination of essential oils, including avocado, jojoba, olive, grape seed, and soybean that penetrate deep below the skin's surface to rejuvenate and revitalize skin cells.
Check out the Moisturizing Gloves And Booties
---
If you do have problems trimming your toenails, or taking care of other issues with your feet, you may need to go for a pedicure on a regular basis. If you have a medical condition you should check with your doctor first.
Save