Someone says something to you and you turn your neck to see them and OUCH!
Neck pain can be caused by many things but is most often related to getting older from wear and tear over time. This can cause stiffness and soreness. One survey done in the UK found that, of adults aged 45-75 years, about 1 in 4 women and about 1 in 5 men had current neck pain.
Here are a few products I found to help your neck pain.
---
Heat Therapy Neck Massager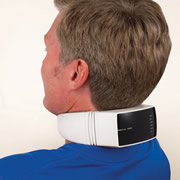 This is the collar that helps to relieve neck tension using vibrating massage, electric stimulation, and heat therapy. Used by professional therapists, it is ideal for helping to relieve muscle pain and strain from driving, flying, or office work. Slipping around the neck comfortably and controlled from the included infrared remote, the massager's six vibration modes promote relaxation. Twin metal conductors built into the collar send six intensity levels of harmless low-frequency electrical pulses into the neck's tissue that block pain signals passing through nerves to the brain, increasing blood flow to promote healing.
Two elements built into the collar provide three levels of far-infrared heat up to 118° F that penetrates neck muscles for optimal relaxation.
Check out the Heat Therapy Neck Massager
---
Massaging Heated Neck and Shoulder Wrap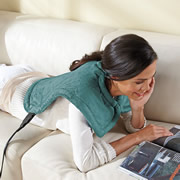 This is the massaging heated wrap designed to simultaneously soothe sore muscles in the neck and shoulders. Its invigorating vibration massage helps relax aching muscles, and unlike typical rectangular heating pads that do not provide ideal coverage or contact, this model's slightly weighted edges and magnetic closure provide a custom fit around the neck, shoulders, and upper back to deliver consistent, therapeutic heat in areas that are prone to tightness.
The integrated heating element delivers even, deep-penetrating heat that stimulates blood circulation to loosen muscles, helps relieve swelling, and soothes joints. The tethered controller adjusts the temperature to two heat settings and the massage to four different levels, and the plush, 100% polyester microplush wrap is soft against skin. With two-hour auto-off setting.
Check out the Massaging Heated Neck and Shoulder Wrap.
---
Physical Therapist's Hot Cold Neck Wrap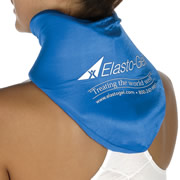 Recommended by physical therapists, these wraps retain both heat and cold and transfer it to joints or muscles for superior therapeutic treatment for injuries or pain. Developed by Dr. Edward Stout, an expert in polymer chemistry, the body wraps are made of a tough, flexible high-glycerine gel that can be microwaved for heat therapy or chilled in the freezer for cold applications.
The latex-free wraps are leakproof, even if punctured, and require no more preparation than a quick microwave or a brief time in the freezer (they won't freeze solid). The safe, non-toxic gel won't dry out or harden, and remains flexible even at -20\u00BA F. Wraps stay hot or cold for up to 40 minutes, move easily with you, and can be worn under clothing after physical therapy or strenuous exercise.
Check out the Physical Therapist's Hot/Cold Neck Wrap.
---
Pain Relieving Compression Neck Wrap
This compression wrap stimulates blood circulation, promoting relief from neck stiffness and arthritis pain while you perform your daily routine or while you sleep. The wrap exerts a gentle compression and is clinically proven to increase skin and muscle temperatures, thus facilitating blood flow throughout the area to reduce swelling, improve the mobility of joints and ligaments, and help relieve arthritic pain.
The wrap is made from a flexible nylon/neoprene material that allows a full range of motion, can be worn under clothing, and fastens with an adjustable hook-and-loop closure for a personalized fit and compression variation.
Check out the Pain Relieving Compression Neck Wrap.
---
Besides minor injuries, bad posture can also cause neck pain when you spend hours at a desk with a bent forward posture. Even sleeping in an uncomfortable position can cause neck pain.
Gently exercising, gradually trying to increase the range of the neck movements, will help keep it stronger, but don't do this if you are in pain without consulting your doctor first.
---